08 March 2023
As winter comes to an end and daffodils begin to appear, we start to appreciate the warmer weather. With warmer weather, come warmer homes. This is when your boiler can start to have a little rest after the freezing winter temperatures.
Whilst it might not be the perfect time to turn your boiler off completely, it could be in need of a service.
From March onwards, we recommend a boiler service. This way, you can spot any issues early and get it ready for the winter ahead.
Whilst you don't legally need to get your boiler serviced every year (unless you're a landlord, of course), we suggest an annual service to ensure it's kept in tip-top condition.
In this blog, we'll cover why you should get your boiler serviced and what to expect during one.
Firstly, let's look at the reasons why you should service your boiler every year.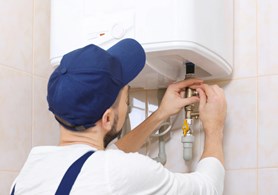 4 reasons to have an annual boiler service
Safety first
Sometimes, a boiler issue can become quite hazardous if not seen to. As your boiler burns fuel, it can release poisonous and dangerous gases, such as carbon monoxide. Carbon monoxide is known as the silent killer as it's tasteless, colourless and odourless, meaning that it can be impossible to detect without a boiler service.
By having an annual service, you can rest assured that your boiler is working safely, keeping you and your family safe from risks that could seriously damage your health.
Fix boiler problems early to avoid a hefty cost
By having a regular boiler service, your engineer will be able to detect any issues before they get too serious and expensive.
If you leave even just a small problem with your boiler, this can lead to a breakdown. This means you'd have to shell out a lot of money for a new boiler. And we all want to avoid that, if we can.
Keep your warranty intact
It's very common that your boiler warranty will state that you'll need to have a yearly boiler service in order to keep the warranty valid.
If you know that your boiler is still under warranty, it's best to book a service to avoid it becoming void. This way, if an issue does occur, you'll be able to use your warranty to pay for it (depending on its T&Cs).
It's worth noting that your warranty will most probably state that a Gas Safe registered engineer must perform the boiler service. Thankfully, all of our engineers at Swale Heating are Gas Safe registered, so you won't have to worry about that part.
Increase your home's energy efficiency
Energy efficiency is a hot topic these days. With a push to become carbon neutral, we all have a responsibility to decrease our carbon footprint.
During a boiler service, your engineer will make sure that your boiler is working at optimal efficiency.
By having an annual boiler service, you'll be doing your bit to help fight climate change. What's more, the more energy efficient your boiler is, the more money you'll save off your energy bills.
If you want to find out what you can do to make your boiler even more efficient, read our blog here. 
What to expect during a boiler service
During a typical boiler service, your Gas Safe registered, professional engineer will check the following:
Visual check
Firstly, the engineer will visually inspect the boiler to see if there are any immediate issues.
They will clean and adjust components if needed and will look for any signs of damage. They will also check for any leaks and corrosion.
Operation check
Next, they will check all of the controls that operate the boiler. This will ensure that all of the boiler functions work well and will help to find any possible issues that may arise.
Flue and combustion check
The engineer will then check the flue to ensure that there are no obstructions in the terminals. They'll also make sure that the entire flue system is fixed properly and is in full working order.
This is where they'll also check for any carbon monoxide leaks, which can be extremely dangerous if left unnoticed.
Tests check
Next, your engineer will check everything that's inside the boiler. These include:
Pilot burner
Flame sense device
Boiler pressure
Safety parts
Seals
Electrical wiring
Thermostat
Heat exchanger
Burner
Main injector
Spark probe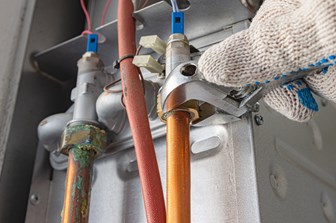 The engineer will also give everything a clean, if necessary.
Inspection check
Once everything's been checked and cleaned, the engineer will turn the boiler back on to check that everything is running smoothly.
Once it's all fired up, the engineer will identify and fix any faults that may have been missed.
Collect your gas safety report
Once your boiler service has finished, the engineer will write everything up.
The gas safety report will include what has been checked and fixed; what has been done and if there were any issues that popped up. It'll also include the boiler pressure and heat input.
If you would like a gas safety certificate you can have this at an additional cost.
Here, we've covered why you should get your boiler serviced and what to expect during your service.
Here at Swale Heating, all of our Gas Safe registered engineers are experts in boiler maintenance, boiler repair and boiler servicing.
We have boiler service plans to suit everyone's needs and budgets. Go to our website today to read more about our service plans.