21 April 2022
A boiler may be moved for many reasons, the most common being convenience.
For instance, your boiler might be taking up space in a kitchen cupboard, or it could be noisy and disturbing sleep in your bedroom, among other things. Whatever the problem is, moving a boiler can alleviate it. Another added perk is the possibility of a faster hot water response time after moving, although this depends on the layout of your home.
So, should you move your boiler?
When the time comes to replace your boiler why not consider moving it to a location that works for you and your home. However, there are things to consider when moving a boiler one of which is flooring. Flooring will more than likely need to be disturbed, removed and re-laid. Scaffolding may even come into play if a boiler is being moved to the attic/loft, with flue clearance being something you will have to consider for your new location. Again, this may seem like a lot of work – but if that kitchen cabinet space is genuinely essential, please contact us to find out about moving your boiler.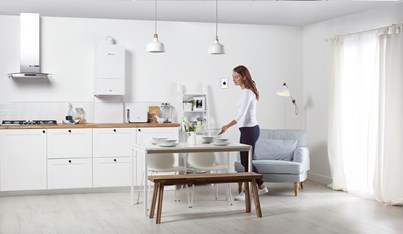 Where to next?
There is more than the usual kitchen cupboard, bedroom cubby hole and utility room boiler housings available, so what are your options?
Kitchen
Many homeowners opt to have their new boiler installed in their kitchen cupboard. This is because most modern boilers are compact in size and can be fitted into a cupboard. Combi boilers, in particular, tend to do quite well in kitchen cupboards as they are compact and require no additional tanks or cylinders. They can therefore be hidden away.
Utility room
The boiler will be out of your way and less likely to interfere with your living space. However, remember that you will have to keep the area around your boiler clear so that none of its wires or other components are knocked or obstructed. So, if you use your utility room as storage for your unused but too good to throw away belongings, you might want to consider getting your boiler installed elsewhere.
Attic or loft
When your boiler is installed here, you won't have to worry about it interfering with your living space. But, it poses challenges. Firstly, the area will need to be boarded and have adequate lighting. There must also be a ladder so that the boiler can be accessed when needed. These spaces get cold, so you'll also need to ensure that your boiler has frost protection and pipe insulation. Additionally, the wall must support the system's weight, and there must be plenty of space around the boiler services, so repairs can be carried out.
Bedroom
There can be a few disadvantages to having your boiler installed in such a personal space. For example, although most modern boilers are built to operate with minimal sound, these systems will still emit a certain degree of noise. This may prove to be disruptive, especially if you're a light sleeper.
Bathroom
It's relatively common for a combi boiler, in particular, to be installed inside a bathroom. However, due to the dangers of having electrics in this location, many regulations must be followed. For example, the boiler must be enclosed within a cupboard to avoid contact with any water. Additionally, the boiler cannot be reachable from the bath or shower, and the system's electrical spur must be located outside the bathroom.
If you are thinking about replacing and moving your boiler, please contact one of our Sales Team on 0800 731 33 44 or complete our online estimate here.