22 April 2022
Boiler services effectively identify any faults, gas or water leaks, and ensure the boiler runs safely and efficiently.
During a boiler service, various tests, checks and essential cleaning will be completed to ensure that the installed boiler functions to its highest possible standard. A boiler service has to be carried out by a registered and certified Gas Safe engineer. They will effectively identify any faults, gas or water leaks, and ensure the boiler runs safely and efficiently.
Just one hour a year will keep your home safer and warmer for you and your family.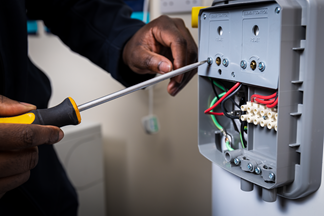 Why should you get your boiler serviced?
Safety: 
Getting your boiler serviced regularly will ensure it's running efficiently and safely. A faulty boiler can be very dangerous, with over approximately 40 deaths, and more than 200 non-fatal accidents, from high-level carbon monoxide poisoning, that required hospital admissions*.
Boilers are hard-working machines in constant use that need checking, cleaning and maintaining regularly if they are to last. Although gas is something that we use every day, it can be hazardous - with carbon monoxide poisoning being more common than you would think. 
Warranty protection: 
During your warranty, possibly up to 10 years, manufacturers require you to have an annual service to keep the contract valid. If your boiler is under this guarantee and you do not have a service once every 12 months, your warranty could be void. If a problem occurs, you're likely to be liable to pay the total repair costs involved, which is something we would all love to avoid. 
Prevention is better than cure:
The likelihood is if you're not a trained gas engineer, you won't know there is any problem until it sneaks up on you and causes your boiler not to ignite. During a service, the Gas Safe engineer will identify and fix any underlying issues before it's too late. No matter how small the case with your boiler, ignoring it could lead to a more severe problem, which could be much more costly to repair or lead to a safety issue. This can prolong the life of your boiler, saving you money and further problems in the long run.
Efficiency: 
Getting your boiler serviced means that your boiler will work at its optimum level all year round. Boiler servicing will dramatically improve its efficiency, in some cases by about 15%. With your boiler working smoothly, your central heating system uses less energy, which will be kinder on your wallet and the planet. 
The beautiful British weather:
A large number of boiler breakdowns seem to happen when you need them most, in the dead of a miserable English winter. It may seem like a distant thought and strange request during the sunny spring and summer months, but when the bitter wind, ice and snow set in, being wrapped up warm and toasty at home is a basic necessity. 
For the Landlords among us:
Landlords are under the obligation to have a Gas Safety certificate for their property and ensure their boilers are running safely. An annual boiler service is essential, and a relatively inexpensive piece of maintenance to undergo each year.
So to keep your home safe, save money in the long run, keep cosy year-round, and be more environmentally friendly, we highly recommend you get an annual boiler service. Book yours today here. 
Information source:
*NICE