22 April 2022
Bring your thermostat into the 21st century with a smart thermostat.
Turning things on and off by voice control is slowly being the 'norm' within homes throughout the UK. More household items are becoming 'smart,' allowing you to control your normal daily tasks, such as turning lights on and off, from your mobile or with a simple voice instruction.
Technology within the heating industry is always moving at a fast pace. However, here at Swale Heating, we pride ourselves on being fully up to date with all the latest innovations. That is why we offer our customers the chance to install some of the most innovative heating devices in the UK with our staggering range of internet-controlled thermostats.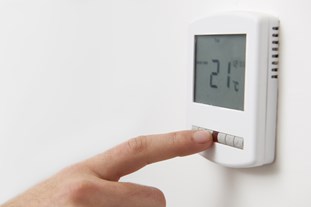 Worcester Bosch Easy Control CT200
Available in black and white, the wall-mounted controller has a modern, sleek design, making it a stylish addition to any home. With the ambient colour display, it is designed to keep you informed as to what your EasyControl is getting up to. A variety of fading coloured lights will notify you when the control is changing modes or settings. 
It allows you to connect Bosch Smart TRV's (sold separately) to control each room in your home individually. The thermostat uses the latest technology to turn the heating down if you are not in the house, or up for when you arrive home.
This is all controlled by an easy to use mobile app which shows you your hot water and heating usage, as well as allowing you to book your annual boiler service.
Nest Learning Thermostat
The Nest Learning Thermostat gives you precise control of the temperature, creates a personalised schedule for your home and eliminates the need for a programmer, giving you the tools you need to save energy. It comes in an array of colours to match the interior of your home.
The auto-away function means the thermostat automatically turns down the heat when you are away, and the learning technology ensures the thermostat 'learns' how quickly your home heats up and adapts accordingly.
You can control the Nest Learning Thermostat from your mobile phone or tablet with the Nest app.
Vaillant vSMART Internet Thermostat
This Vaillant vSmart Internet Thermostat has a paper display featuring self-learning, weather compensation and a wireless connection. Connecting your boiler to this thermostat will allow you to control your heating and hot water from anywhere.
The self-learning features of the vSMART will start to understand your home's heating requirements from the moment it is switched on. Simply tell vSMART your desired temperatures and it will adjust the boiler output to match.
The weather compensation features use local weather data to determine the outside temperatures that the boiler is up against. If it is freezing cold outside, the vSMART thermostat will know to ramp up the heat.
Honeywell EvoHome Connected Thermostat Pack
Honeywell are one of the most popular brands of heating controls within the UK, and their EvoHome thermostat with wi-fi allows you to be in full control of your heating system wherever you are. Unlike other internet enabled thermostats, the Honeywell Evo Home allows you to add multiple heating zones within your home, so you can potentially control each room's temperature individually and precisely.
Controllable by your smartphone or tablet through an app available for Android or iOS devices, the Evo Home can allow you to operate your heating from anywhere if you have a connection to the internet.
At Swale Heating, we have the expertise and know-how to install the most popular thermostats and smart heating controls on the market. This blog gives you an insight into a few thermostats to help you decide which smart thermostat is for you, but our heating engineers are always more than happy to advise.