29 September 2022
Swale Heating prides itself on its customer service and keeping its customers safe and warm. To ensure this is delivered, we have strong core values which our employees embrace.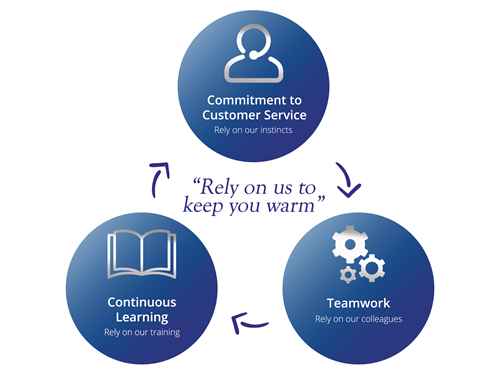 In September 2022, our staff came together for a week of activities to help celebrate our values and to spend time reflecting on how we continue to deliver outstanding customer service.
Activities included a technical challenge, quizzes and team games. Each office employee was in a team who took part in challenges throughout the week around their normal working tasks.
There was also a chance for employees to sit down with our Managing Director, Matthew Edwards, and Chief Operating Officer, Andy Ellis, and ask them any questions they may have about the business.
Ensuring our staff have the knowledge and skills to deliver outstanding services to our customers is our priority, which is why we had an entire week dedicated to our values to ensure they are embedded in everything we do.
Want to work for a business where training and progression are provided? Are you looking for a new role? We are recruiting across the business for driven and positive people. Find out more about what vacancies we have here.
If you want to know more about the culture and benefits of working at Swale Heating, visit our careers section.
Want to apply to work at Swale Heating? Send your CV to recruitment@swaleheating.com.
By joining Swale Heating, you will be embarking on a challenging and rewarding career path where you will have the opportunity to contribute to the ever-evolving heating industry.