10 October 2022
At Swale Heating, we are delighted to celebrate our 50th anniversary this year.
Since its beginnings in 1972, the company has greatly progressed over the last 5 decades, keeping up with the ever-evolving changes in the heating industry.
When founder and Chairman of Swale Heating, Ian Pierson, set up his company 50 years ago, he had one core purpose: 'To be trusted by our customers to keep them safe and warm, every day of every year.'
He goes on to state: 'Starting out in 1972, little did I know what we would achieve. Growing from a small company into the 370 employees we are today, Swale Heating has become a household name within the sector and our local community. As a company trading for so many years, it means we have seen our fair share of changes in the heating industry. It is a proud moment to see the business I started all those years ago celebrate its 50th year."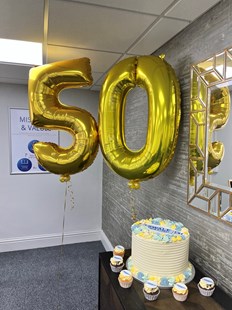 How we've evolved
The heating industry was certainly a different picture in the 1970s when Swale Heating was set up.
It wasn't until the 1970s and 1980s that central heating was introduced into homes. Before then, the fireplace was the hub of the home, with just one room being heated in the entire household.
The 1970s saw the introduction of central heating, with radiators being a luxury. It was seen as a novelty, quite like the colour television. But it wasn't until the 1980s until central heating became a basic requirement.
Thanks to advancements in technology, now the entire home could be heated and controlled by the central heating thermostat, an appliance that we still use today.
On average, a government report looking at energy consumption from 1970 to 2019 shows that households were 4 °C* cooler back then. What's more, whilst people had cooler homes 50 years ago, more fuel was still used, highlighting how we are benefitting from technological innovations and green energy solutions in the domestic energy sector today.
Another difference is that there are now 8 million more homes in the UK than in 1970. Before this, the transport industry was the main user of energy in the country, before the domestic sector over this. This shows just how new and exciting central heating was 50 years ago, even if people were colder than we are today.
How we're evolving
Since we started, we have expanded our business to London and East Anglia. Not only do we work with individuals, but we offer services to housing associations and have expanded into the commercial sector.
What's more, with renewable energy being such a popular topic, Swale Heating are evolving with new technologies and the shift from fossil fuels to renewables.
Our engineers are not only Gas Safe registered, but are also MCS certified. This means that engineers at Swale Heating are trained and certified to install renewable technologies including heat pumps, solar panels and solar PV.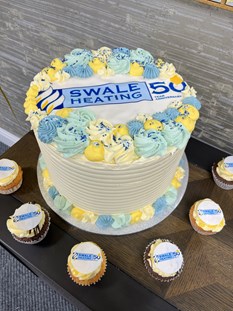 Additionally, we can help guide our customers if they are making the transition to a renewable system. Our representatives are highly trained to recommend which form of renewable energy system is best for your property.
As well as this, we uphold expert knowledge in the new heating technologies available today. From smart thermostats to hydrogen-ready boilers, we can assist in updating our customers' central heating systems with the latest devices available.
With the heating industry constantly advancing, our team at Swale Heating are constantly evolving with the technological innovations that are dominating the market today.
'I have worked at Swale Heating for 17 years and have seen it grow to become a large part of the local community. As we celebrate our 50th year, we look at how far the heating industry has come, and the new technologies which allow us to grow as a business and deliver the most efficient heating solutions for our customers. It is an exciting time in the heating industry, and I am looking forward to what the future holds for Swale Heating.' Mathew Edwards, CEO.
With this vision, and the drive to deliver superior expertise to all of our customers, Swale Heating have gone from strength to strength over the decades.  
We'd like to take this opportunity to thank everyone who has chosen and supported Swale Heating over the last 5 decades, and we look forward to what the next 50 years brings us.
Information sources: