22 April 2022
Our guide to saving space in your home
There are 2 key components you will need to take into consideration if you want to try and save as much space as possible when it comes to heating your house:
The size of the unit - how will you maximise the space available to yourself? Which appliance will you choose?
The location of the boiler - where is the best place to put your new boiler so it won't get in the way of day-to-day living?
Size
After finding out the requirements of the wattage and efficiency you require, the size of the appliance is another key factor when deciding on which boiler or radiator to purchase. With the improvement and advancement of radiator technology, as with most things these days, they are becoming slimmer and more stylish with each design.
The newer designs of modern day electric radiators allows a great option to be available for people who wish to maximise the space in their homes. These do come at a price however, with the average energy cost of an electric radiator costing more than 3 times the amount as a traditional combi gas radiator. It all depends on your preference and budget.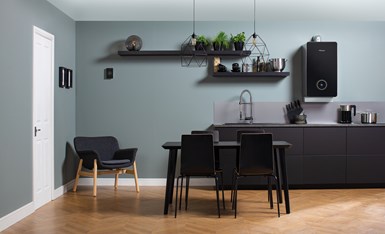 The size of the radiators required to heat a room is dependant on the size of the room, through a calculation of "British thermal units" (Btu).  Once the Btu is calculated, you will be able to see the size of the wattage needed, and although this isn't obligatory, it is the most recommended.
Location 
Deciding on the best place to put your boiler can be a very confusing process in terms of saving space within your home, the most cost-effective location, and whether the boiler will remain as efficient in the new location.
Moving your boiler out of view can improve the image of a room significantly. Placing your new boiler in a discreet place can also increase the price of the property. 
Deciding to install and relocate a new boiler can be daunting. That's why one of our Gas Safe engineers will be sent to your home to find the best possible solution for you.
What's more, installing a new boiler could even increase your home's energy efficiency up to 95%, meaning you could save up to £840 a year, depending on your property-type and current ErP rating*. 
Relocating your boiler may seem like a good idea in theory, but it can come at a very costly expense. Rerouting the gas pipeline can be very expensive for homeowners and can deter them from moving their boiler. This work would also need to be completed by a Gas Safe registered engineered as it can be a complicated process. Thankfully, all of our engineers at Swale Heating are Gas Safe and MCS certified.
Underfloor Heating 
Along with those 2 main components, one last idea that you could consider to save space is underfloor heating
Underfloor heating is a modern way of heating your homes - it's kept well out of the way, and is especially effective in kitchens and bathrooms. Most people tend to have this installed alongside new radiators, however, it can also be used as a replacement for all radiators in the house, depending on any heat lost through windows and doors etc.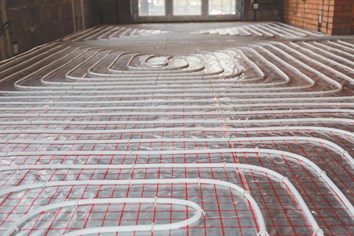 You would also have the choice between either electric or running it through the main boiler. Electric underfloor heating can be much more cost-effective when installed, but then running costs may be more expensive to maintain continuous heat. If you'd like more information about underfloor heating, click here. 
Food for thought
Overall, being able to maximise space in your homes is important for homeowners, and any space can be generally used.
However, this all depends on the space available, the efficiency of your appliance and your budget. For more information, have a read of our blog 'Why should you move your boiler?' 
If you'd like to discuss your options with one of our expert sales team, please use our contact form, or call us on 0800 731 3344.
Information source: