22 April 2022
At Swale Heating, we understand your central heating system is an essential aspect for both you and your home.
Whether you're a home owner or business owner, an efficient boiler is a vital factor. Purchasing a new boiler isn't something you may consider all too often, but with winter now in full swing, there are many aspects in which you can benefit from with a newer, more efficient heating system.
Like people, all heating systems age and start to operate less efficiently than they used too. With a new boiler installation starting from as little as £1900, including a 10-year warranty, upgrading your old heating system is a no brainer.
Are you already thinking of upgrading your boiler? Here at Swale Heating, we have outlined a list of advantages, which you will benefit from by purchasing a new boiler today.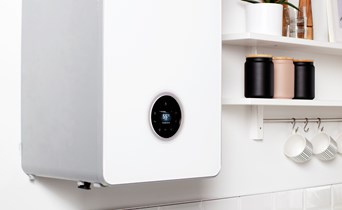 Improved performance levels 
As well as offering high performance levels of heating and hot water, today's new, modern boilers are now suited to your lifestyle and convenience. Most new central heating systems now integrate the latest technology and compatibility with smart controls, such as Nest. This allows you to control your home's heating and hot water in the palm of your hand, whether you're at home or the go, anywhere, at any time. Unfortunately, most smart controls are not compatible with older central heating models. By upgrading to a newer and smarter boiler, you will be able to take full control of your central heating and manage your energy usage and bills.
Long term savings
Did you know you could save up to £840* a year (as of 2022) on your heating and hot water bills, depending on your property-type and EPC rating? By upgrading your old system to a newer, more efficient model, you will benefit from an A-rated energy efficient boiler. This means you will consume less energy, which will reduce the cost of your heating and hot water bills. Older central heating systems will naturally work inefficiently compared to today's new A-rated boilers, so it may be in your best interest to upgrade today.
Reliability and longevity 
Like almost any product, the newer it is, the more reliable it should be. This also applies to new central heating systems. Most boilers are now supplied with up to 10-year manufacturer's guarantee, so you can rest assured your boiler will last you years to come. Most newer models come compact with reliable and up to date technology, which allows you to identify a fault within your boiler and even notify you when you may need to call out an engineer, resolving the issue early on instead of it going unnoticed and resulting in any costly repairs.
Thinking of purchasing a new boiler? A new boiler installation from Swale Heating costs from little as £1900. With finance options also available, you can spread the cost over 5 to 10 years**. To find out more about our finance plans click here, or to get a free online estimate, fill out our online estimator here.
Information sources:
**Representative example: Cash Price £1900, 10% Deposit £190, Amount of Credit £1710, 120 Monthly Repayments of £22.11, Rate of Interest 5.5% p.a. fixed, 9.9% APR Representative, Total Amount Payable £2843.20