A dad and his friends from Horley in East Sussex are setting off on a gruelling 600 mile bike expedition over six days in an effort to raise funds for Cystic Fibrosis charities.
For James Robson the cause is one that is very close to his heart, as his 8 year old son Harry lives with the condition. Harry is described by his dad as a "true warrior" and "inspiration" and since his birth James and his supporters have been involved in a number of fundraising efforts for related Cystic Fibrosis causes, raising in excess of £100,000 for the Cystic Fibrosis Trust and CF Dream Holidays.
James said: "We've raised funds for material things like bikes and nebulisers. But the really important thing for families is their time together. CF Dream Holidays makes it possible for families to spend time away making happy memories and they often find that the children themselves come back less stressed and with improved health"
"I was able to go with my wife, Zoe, our other son, Lenny and Harry to Center Parcs last year for a long weekend and we had an amazing time as a family. Nothing can take those memories away from us."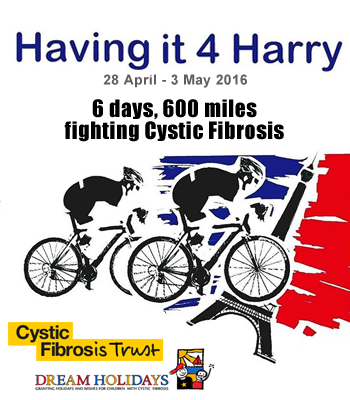 James' latest efforts will see him and his 3 co-cyclists set off from Harry's school in Horley on Thursday 28th April and cycle to Portsmouth. From here they will board the overnight cross-channel ferry to Le Harve in France.
On Day 4 they will then set off for the French Capital Paris before heading back to the UK on Tuesday 3rd May (Day 6), where they will be greeted by friends, family and supporters at a celebratory reception held at a local restaurant.
The team hopes to raise £3,000 but currently, the entire trip is self-funded. A support vehicle was essential to make the event possible.
Here at Swale Heating we were tipped off about James' charitable efforts and were keen to help out. As such we have donated one of our vans for the weekend to help carry the groups' bikes, supplies and equipment.
Our Sales Director Matthew Edwards said "We found out about James's challenge through a contact and decided that we should do what we can to support him and the other riders to raise money for such a worthwhile cause."
James says the bike ride will be tough but rewarding."We are known for our support of local charities and our award-winning initiatives to help young people into employment – helping our community is important to us."
"I'm not sure any of us will want to sit down again when we get to the reception. But I do what I do for the ones that I love and I really appreciate the support of companies like Swale Heating. It makes all the difference."
If you want to support this great cause or are keen to find out more then please visit
 the Virgin Money Giving page that has been setup by James.
You can also follow their epic bike ride via our Twitter or Facebook pages.