Company leads the way in its commitment to customer service excellence, environmental management, and health & safety.
Swale Heating has achieved a hat trick of internationally recognised standards, underlining its reputation as one of the leading independently-owned heating companies in the UK.
The assessment was conducted by the British Assessment Bureau and demonstrates Swale Heating's commitment to three key areas of their business – quality in customer service and delivery; environmental consciousness; and operating to the highest health and safety standards.

Matthew Edwards, Swale Heating's Sales Director, says: "By becoming one of the first companies in the heating sector to achieve all three of these revised 2015 certifications, Swale Heating is leading the way in driving up standards in the industry.
"The company has designed and implemented a far-reaching change programme in the past 18 months and I believe the benefits of introducing a strong integrated management system have been recognised by the independent assessment and subsequent award of these certifications. It is a testimony to the hard work and dedication of our staff and we are hugely proud of this achievement."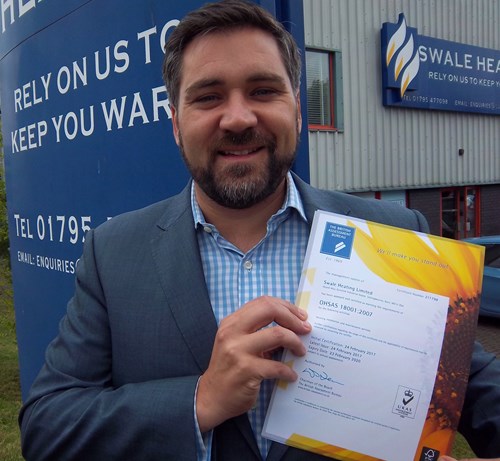 ISO9001:2015 is the internationally recognised standard for quality management. This was recently revised from its 2008 version requiring the organisation to evidence its commitment to quality service delivery and customer satisfaction through a structured framework of 'plan, do, check, act'. This not only ensures consistency of service but also focuses the business on continually developing and improving our service leading to industry leading levels of performance and customer satisfaction.
ISO14001:2015 is the internationally recognised standard for environmental management. This was first introduced in 1996 and recently revised to the 2015 version aligning it with the ISO9001:2015 ensuring an integrated management system. This standard focuses the business on ensuring it meets its environmental objectives and commitments as a responsible member of the local and global community.
OHSAS18001:2007 focuses on health and safety management. This will transition from a British Standard to an International Standard (ISO) in the coming year, fully aligned with the ISO9001 and ISO14001. It focuses on ensuring that not only Swale Heating staff but also everyone else who interacts with us or our products can be safe in the knowledge that Swale Heating will ensure their health and safety is the highest priority and we implement a robust and independently verified system to ensure this.
Matthew Edwards says: "Swale Heating takes great pride in the fact that not only do we show our commitment to continual improvement in the above activities on a daily basis through our operations and client interactions, but we can now demonstrate this commitment through the display of the British Assessment Bureau's shield and logos.
"This shows that our commitment and transparency in these areas have been independently and robustly tested against these exacting standards and confirmed by a respected UKAS-accredited certification body.
"We see this certification as only the beginning of the journey as we continually seek to improve and raise the industry bar in these areas, using annual assessment by independent bodies to gain the maximum opportunities for improvement."
Rob Fenn, Chief Executive of the British Assessment Bureau, says: "By being certified to multiple ISO standards, Swale Heating has truly demonstrated its dedication to excellence. Swale Heating's clients can have the confidence that they follow the best practice for quality management, the environment and health and safety, three key cornerstones in their industry."
Swale Heating was established in 1972 and has a workforce of more than 500 operating throughout London, the South East, East Anglia and the Midlands. It is a member of the influential trade association, The Heating and Hotwater Industry Council and works with the Gas Safe Register to promote gas safety. Swale Heating has more than 100,000 customers in private, housing association and local council homes.
For information visit the British Assessment Bureau.