Kent based Swale Heating has appointed former Johnson Matthey director, David Bellis, as Head of HR to support its ambitious programme of growth and expansion.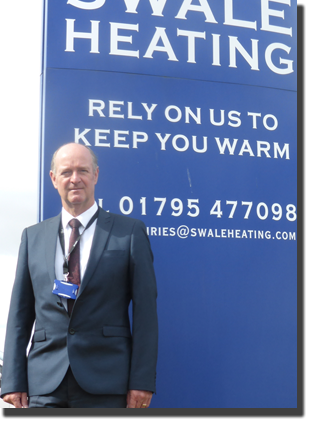 David, 56, brings to his new role more than three decades of experience implementing innovative global HR strategies across Europe, Asia, Africa and North and South America. During his time at Johnson Matthey, the chemicals and technology giant achieved an annual turnover of more than a billion pounds and employed more than 13,000 staff.
Swale Heating, one of the largest independently owned heating firms in Kent, London and the south east, currently employs just over 500 people with plans to double in size in the next five years and extend its operations across the UK.
Despite the disparity in size between his new and former employers, David says the principles remain the same.
Many businesses have a vast pool of talent that is underutilised. Swale Heating's forward looking and experienced management team acknowledges that and is using HR as the change agent to support growth. It's a trusted brand with thousands of loyal customers but there is more to do in terms of delivering consistently excellent customer service and bringing on our brightest workers.
David says that, within five years, Swale Heating will be the heating company that the best engineers aspire to work for.
We have excellent, well qualified engineers but we need to work harder to engage them so that they never want to leave. That means strengthening our training capabilities and introducing performance systems through which individuals take ownership of their own career progression. Every member of Swale Heating is capable of developing – we will create the environment where they can do that at a pace and to a level that makes the most of their individual potential.
Managing Director, David Mathieson, says the Head of HR appointment is a turning point in the company's plans for the future.
David Bellis has the experience and the vision to make Swale Heating both the employer and provider of choice not just in our traditional heartland of Kent and the south east but across the UK. We are delighted that someone who has delivered outstanding and consistent results at an international level should see the potential of Swale Heating to move to the next level.
When David Bellis left Johnson Matthey last year, his experience might have led him to another global company. But he was attracted by the challenge of implementing techniques that contribute to success on the world stage to develop a smaller business. A pro-active business like Swale Heating, he maintains, will look to change staff attitudes through changing behaviour – and the key to that is communication.
SMEs have the advantage of being able to develop a more personal approach; if you get the right conduit, everyone who works in the business can feel connected to senior management and then everyone works together to make the business better. The key is to engage people – how you do that is particularly important in a business of this size.
David has already implemented measures that strengthen the HR function. From October onwards, Swale Heating will have a new review process for staff that concentrates on future development rather than past performance. In the meantime, one of David's first initiatives has been to set up an employee forum.
We have a team of ten people from different areas of the company who, as members of the forum, will share ideas and challenge preconceptions. No successful business can afford to have teams that work independently of each other. The employee forum is one step to make sure different areas of the company are working together to effect change.
David's belief in HR as an agent of change was forged in his home country of South Africa. He moved into HR after achieving a BA in Psychology and an MBA in Business Leadership. Working for companies such as the transportation firm, Cargo Carriers, he implemented strategies that encouraged communication and talent development in a country that was only just coming to terms with the end of apartheid.
The global initiatives he has developed are particularly relevant as the UK goes through its own period of change.
The Brexit vote has introduced a period of uncertainty and possible stagnation. Swale Heating's commitment to fully empowering its workforce means it is well placed to do significantly better than companies that see a slow economic period as a reason for putting off changes.